We put in our request with my neighbour's classroom scholastic order. I've been so good about not spending all our money at Chapters and now this...a monthly magazine full of book titles the kids and I drool over. I remember how much I loved those Scholastic orders as kids.
We picked up the
math dictionary
by DK books. I figure Alex loves reading books with short blurbs and definitions so this would be another good way to learn math.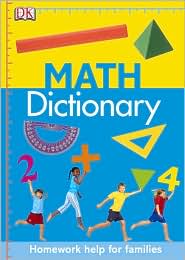 Fun with Roman Numerals
. It explains it much better than I did.
We also picked up a 4 pack of the Horrible Science books by Nick Arnold. I didn't know these existed. I have been (not patiently) waiting for Alex to be older, or rather mature enough, to read the Horrible History series and was very excited to come across these. We picked up
Blood, Bones and Body Bits, Shocking Electricity, Fatal Forces and Nasty Nature
.
From our last library haul, notable mentions for:
Revolting Poems to Make you Squirm
by Susie Gibbs
DK Eye Wonder book of Weather
Fire Fighters in the Dark
by Dashka Slater